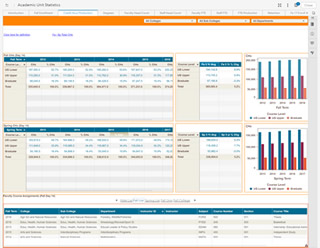 Academic Unit Statistics (AUS) is a tool for college and department administrators to use for planning and annual reporting. It consists of trend tables and charts for official enrollment, degrees, credit hours, faculty and staff, and other data.
Data within AUS is census/frozen data. This data is also used for state and federal reporting, college guides and rankings, and in reports where year over year trend analysis at official points in time (14th day/ End of Term) is needed. As some unit-record data is viewable in some reports, access is limited to authorized users.
Data for 2019-2020 is now available in all reports.